Volunteer Services has moved to a cohort onboarding process. We will not host a 2019 High School Summer Program. Thank you for your interest in volunteering with UCSF Health.
Click here for details about our next cohort
---
High School Summer Student Volunteer Program 2018
Thank you for your interest in the Summer Student Volunteer Program, the 2018 pre-application is now closed.
---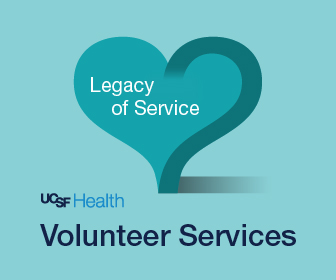 Dear Volunteers and Partners,
Thank you for a wonderful summer at UCSF! It was a joy to host our Summer Students once again this year. Our Interns, Kristi Jou and Queenie Chin did a fantastic job of mentoring our group of enthusiastic and energetic students. We understand that learning more about healthcare can be especially helpful to our youngest volunteers as they consider meaningful career options. Because we recognize how important opportunities such as our historic Summer Student Program are, we have sought to develop additional opportunities for students to serve year around.

Nearly ten years ago I created a volunteer program at a large Health System in Arizona where vetted students as young as 14 years old were allowed to serve as volunteers in the hospital alongside their parent, adult sibling, grandparent or guardian. The volunteer pair committed to serving the same 3-4 hour shift per week-together. These pairs were asked to serve 100 hours each with us, and most served at least twice that amount. We are working to roll out a similar program called "Legacy of Service" here at UCSF. We know that most parents want to model generosity, compassion and kindness for their children. As parents, we leave a legacy with our children by example. What better example can we give than to volunteer to serve our patients and guests at UCSF? Our volunteers truly make a difference, and leave a legacy with their service. We look forward to sharing more about our "Legacy of Service" program with you soon!

Thank you,
Amy Sanders, CAVS
Manager, Volunteer & Guest Services

---
Summer Student Reflection Contest:
Thank you to our High School Summer Student Volunteers for your commitment and dedication to UCSF patients, guests and staff. Thank you to the Bengier Foundation for funding this inspirational experience. The UCSF Summer Student Reflections Contest "What do UC?" created beautifully written essays, visual masterpieces, and heartwarming videos.
---
See how the volunteers of Summer 2017 contributed to the patient experience at UCSF Medical Center, by reading our annual newsletter Caring Connections.