2018-2019 Occupational Health Service Schedule
Occupational Health Services Clinic: Locations and Hours of Operation
Get your Flu Shot !
Occupational Health Services during Drop-In Hours: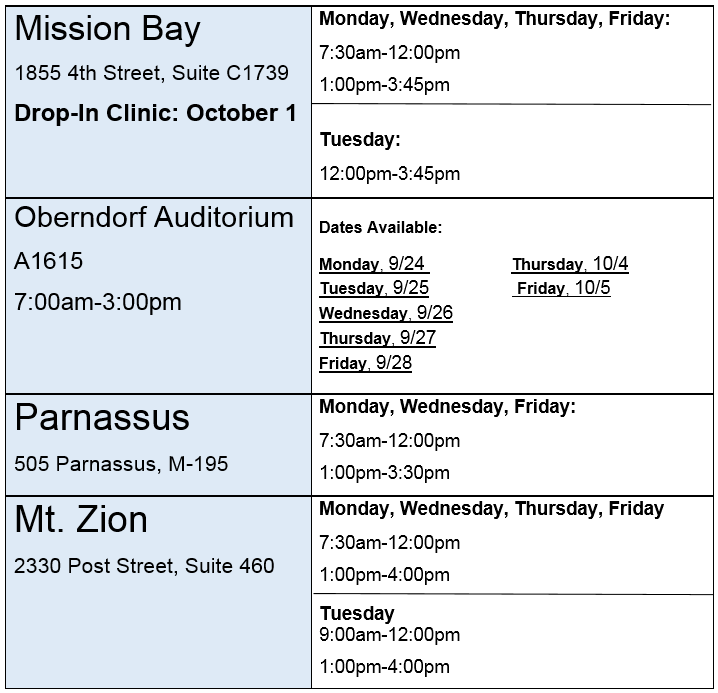 Wear your UCSF Volunteer ID Badge and head to Occupational Health during drop-in hours for your free flu shot!
After you receive your flu shot, you will receive a Flu Shot sticker to be placed on your ID badge. Please obtain a receipt or confirmation email of your flu shot for your own records.Return a copy of your flu shot receipt to Volunteer & Guest Services. Volunteers who receive a flu shot outside of UCSF must bring documentation to one of the flu shot clinics or to Occupational Health Services to receive a flu shot sticker (and return a copy of your receipt to Volunteer Services).
IMPORTANT: IF YOU DECLINE THE FLU SHOT, YOU BE REQUIRED TO WEAR A N-95 MASK, STARTING NOVEMBER 1, 2018.
The vaccination campaign is part of an effort to protect the UCSF workforce and patients.The flu shot policy requires that all medical employees, UCSF faculty, house staff and volunteers be vaccinated for the seasonal flu. As required by state law, anyone who declines a flu shot must sign a declination form and wear a hospital-supplied mask while in areas where patients are seen, evaluated and treated. If you are a volunteer with Child Life Services and need to decline the vaccine, you will be asked to take a leave of absence from your assignment with children until the flu season ends. Wearing a mask with our pediatric patients can frighten the child. You may also speak with Volunteer Services to discuss the possibility of an assignment in an area away from direct patient interaction. When flu season ends you may be able to resume volunteering with the Child Life Department provided that they continue to have volunteer assignment openings

If you have any questions, please contact the Volunteer & Guest Services Department at 415-502-9888 or [email protected]
Thank you for all you do as a UCSF Volunteer!
.