We are excited to keep you in the know of what is happening with our Volunteers!

Director's Cut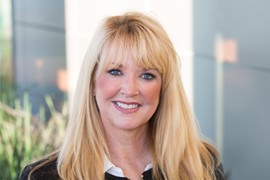 Dear Volunteers, Volunteer Supervisors, Internal & External Partners/Vendors, UCSF Health Leadership Staff & Faculty:
Welcome to our first all-electronic version of the new & improved volunteer newsletter. We value your feedback, and we are growing and improving because of YOU!
We invited our current/active volunteers and our internal teams to suggest some new newsletter names & titles, and then our teams voted on the top favorites.
Together we have chosen One Heart, Many Hands, as we feel that this title clearly describes what our volunteers do here every day at UCSF Health.
Also, we are very proud to become more green with our quarterly newsletter now sent to you electronically!
Here are a few of the other ways we are growing and expanding in 2018 (We encourage and appreciate your feedback on any of this!):
All of our volunteer marketing materials have been re-branded, and are now placed strategically throughout the hospitals at all main front desks and in our Volunteer Services Offices.
We are on Facebook (https://www.facebook.com/ucsfvolunteer/) with our own UCSF Health Volunteer page! Please find our page, like us, and share with your friends & family. You may also submit ideas for other Facebook stories that are important to you with your experience…send your ideas to us at

[email protected]

.
We now have digital billboards (on overhead television screens) to advertise our ongoing need for new volunteers at all three of our hospital locations. Please use our marketing printed pieces to invite your friends & family to volunteer with us at UCSF Health! Grab a few and pass them out while sharing about your experience as a volunteer.
We are now focused on:
Growing our volunteer base
Building new volunteer programs in our healthcare system
Striving toward 100% compliance with the Joint Commission (our governing body) by properly tracking data and hours served by volunteers in our Samaritan Volunteer Management System (SVMS)
Providing a simple and seamless onboarding experience online to our volunteers and data to their volunteer supervisors for reporting-out requirements.
Now that all of our volunteers are successfully using our online system, our next phase is to bring all of our volunteer supervisors into the SVMS system as well. Our pilot project, which currently has over ten program areas and leaders who are using and learning our new system, is incredibly successful. Together we are building Best Practices for a full launch in fiscal year 2019.
It is indeed an exciting time for Volunteer & Guest Services. We believe in the power of team and of teamwork, and in lifelong learning & training. We appreciate the supportive collaboration of our volunteers, volunteer supervisors, and our other UC Health Systems' volunteer program leadership, and with other partner hospitals who also have volunteer programs. We welcome your input on everything we are doing, and invite you to volunteer along with us!
My Very Best, Wendy Reese
___________________________________________________________________________________________________________________________________
Manager's Message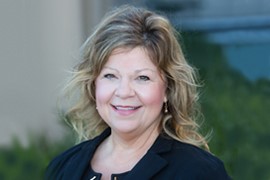 Dear Volunteers,
Happy Spring! There is so much to look forward to, and so many of you to be grateful for! Every single day I am inspired by your generosity and positivity. As you are well aware, most of our patients and guests are facing challenges. We know that you stand with us as we serve. We appreciate the fact that when you enter our hospitals with your vest and badge, you also choose to bring your best self. Your patience, calmness, and helpfulness have the most positive impact on those you encounter. The kindness you show truly makes a difference in the lives of the people we serve. We hope you will join us during National Volunteer Week (April 16th-20th) in the Volunteer Services Offices at Parnassus and Mission Bay for some soup or a snack, and at our open house appreciation event "A Thousand Thanks" at the Oberndorf Auditorium at Mission Bay on April 27th where we will celebrate your contributions!
Many Thanks, Amy Sanders
___________________________________________________________________________________________________________________________________
News & Events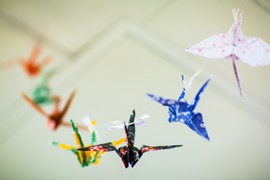 "A Thousand Thanks"` An Open House to Honor our Volunteers and Volunteer Supervisors on Friday, April 27, 2018.
___________________________________________________________________________________________________________________________________
Volunteer Spotlight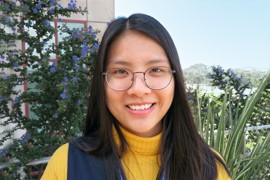 The first thing you may notice about Tu Anh is her friendly personality and excitement to help others. Every Friday at the Parnassus campus, she warms the hearts and hands of patients' visitors when she serves them cups of coffee and tea on her "Brew Crew" rounds. Tu Anh has been a UCSF Health volunteer since May 2017, and she enjoys interacting with medical staff, other volunteers, as well as patients and their families.
Tu Anh sought to expand her educational opportunities when she moved to San Francisco three years ago from Cheb, a small city in the Czech Republic. She currently attends City College of San Francisco, and plans on transferring to another academic institution in the future. In addition to volunteering, Tu Anh takes a full load of classes and works part time at a chemistry lab at City College. Tu Anh is also the Secretary of the Pre-Med/Pre-Dental club at her school.
What Tu Anh loves most about volunteering is having the chance to brighten people's day with the "Brew Crew," and seeing their faces light up when they receive a cup of coffee. Volunteering at UCSF has inspired her to pursue a career in nursing in the future. Tu Anh is grateful for the volunteer experience she's had in America, as she mentioned the Czech Republic unfortunately doesn't provide similar opportunities. She is happy to have met so many wonderful people at UCSF, and has had many engaging interactions while volunteering. Tu Anh's compassion and heart for others is reflected in her volunteer service at UCSF Health, and she hopes to work here one day!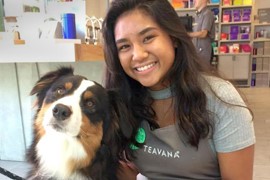 Evelyn's passion for volunteering is evident in her commitment to serving others. She has been a part of the UCSF Volunteer Services Brew Crew and Cancer Resource center programs going on two months. She has made a great impact on our patients, and staff as she makes her rounds weekly. Her favorite part about volunteering is meeting so many great people delivering beverages to patients and staff, as it tends to brighten up their day. She is able to interact with the people she encounters; conversing with them about the Brew Crew or listening to a story they share that she is always willing to hear.
Her goal is to become a global brigade, in which she will help other communities in different countries gain access to resources. She likes learning about the Pacific Islander communities and their culture and is a participant in the Asian American Pacific Islanders Club.
She aspires is to become a Physician's Assistant in the next seven years.
When asked why she chose UCSF as her volunteer placement, Evelyn stated, "I chose to volunteer at UCSF because I love volunteering and I thought I should start contributing my time in hospitals so UCSF was the best choice."
___________________________________________________________________________________________________________________________________
Supervisor Spotlight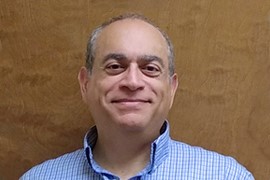 Volunteer Supervisor Paul Asfour is a veteran volunteer leader, having managed volunteers for fourteen of his twenty-eight years at UCSF. As the Senior Program manager at the Helen Diller Family Comprehensive Cancer Center, Paul oversees the Patient Education program. His responsibilities including managing the digital and print library, and curating all of the program materials, among many other projects. When asked about his favorite piece of working at UCSF, Paul says: "The volunteers are inspiring. Students are eager to learn, and cancer survivors and caregivers bring wisdom, dedication and sensitivity to their role." Patients, families, and volunteers are in good hands under Paul's leadership at the Cancer Resource Center (CRC). Paul's volunteers describe him as passionate, supportive, engaging and knowledgeable. Paul says his number one goal is to make sure that patients get the best experience they can when they come to the CRC. Outside of UCSF, Paul is a volunteer in his own community. He participates in a Jewish and Palestinian dialogue group, and runs a support group for gay Middle Eastern men.
___________________________________________________________________________________________________________________________________
Pro Tips for Volunteers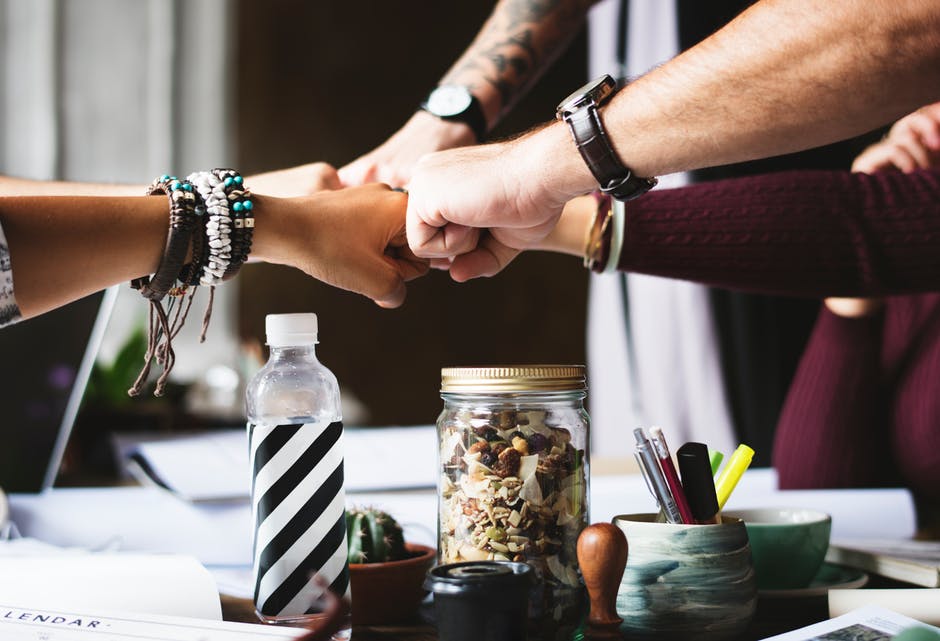 Did you know there are three ways for you to record your volunteer hours?
At the Samaritan sign-in station at our Parnassus and Mission Bay Volunteer Services Offices
Online via your Samaritan dashboard on the day you volunteer
On the clipboard located on the door before or after our regular office hours
However you sign in is the same way you sign out!
"Volunteers do not necessarily have the time;
they just have the heart."
--Elizabeth Andrew