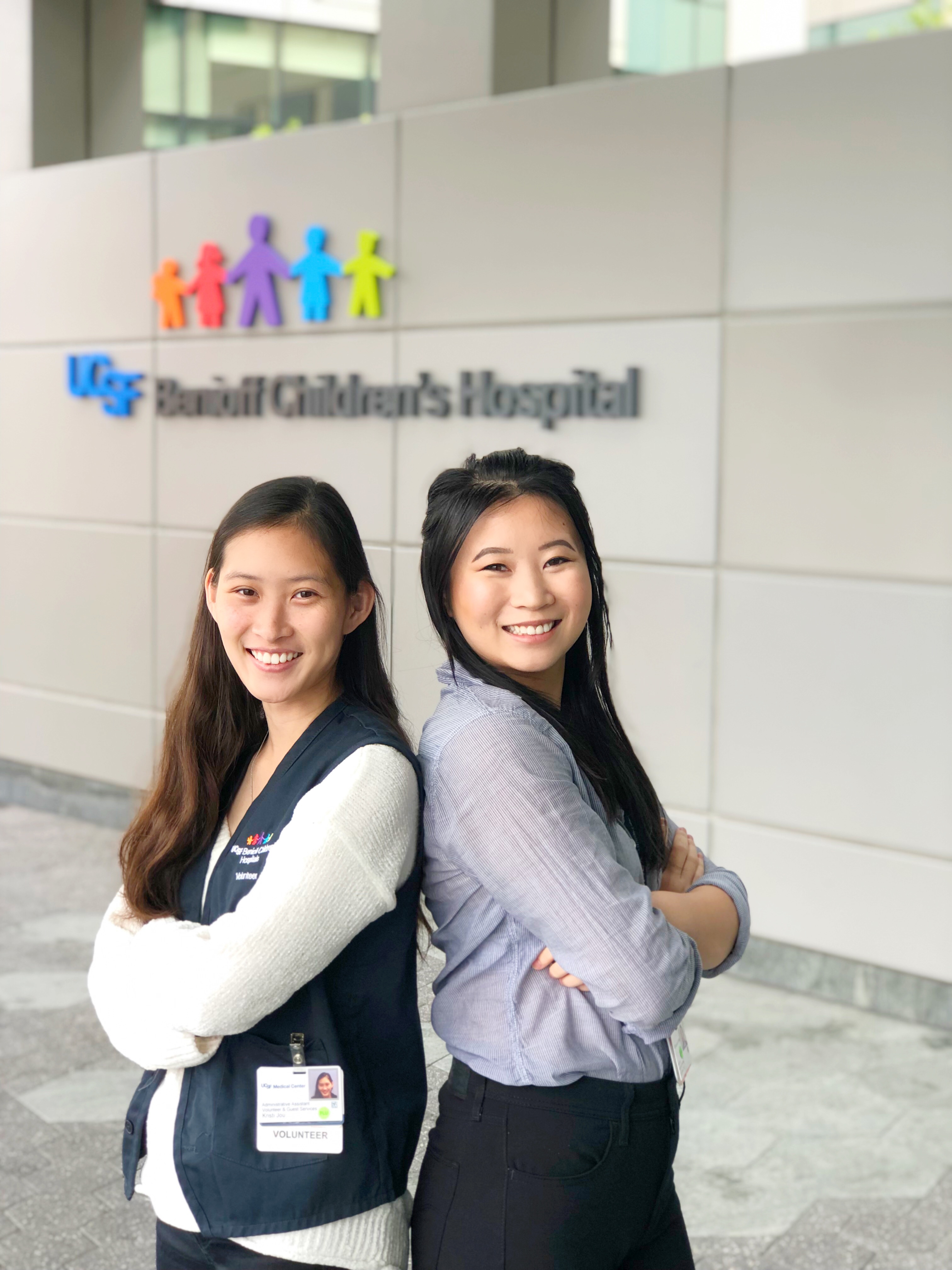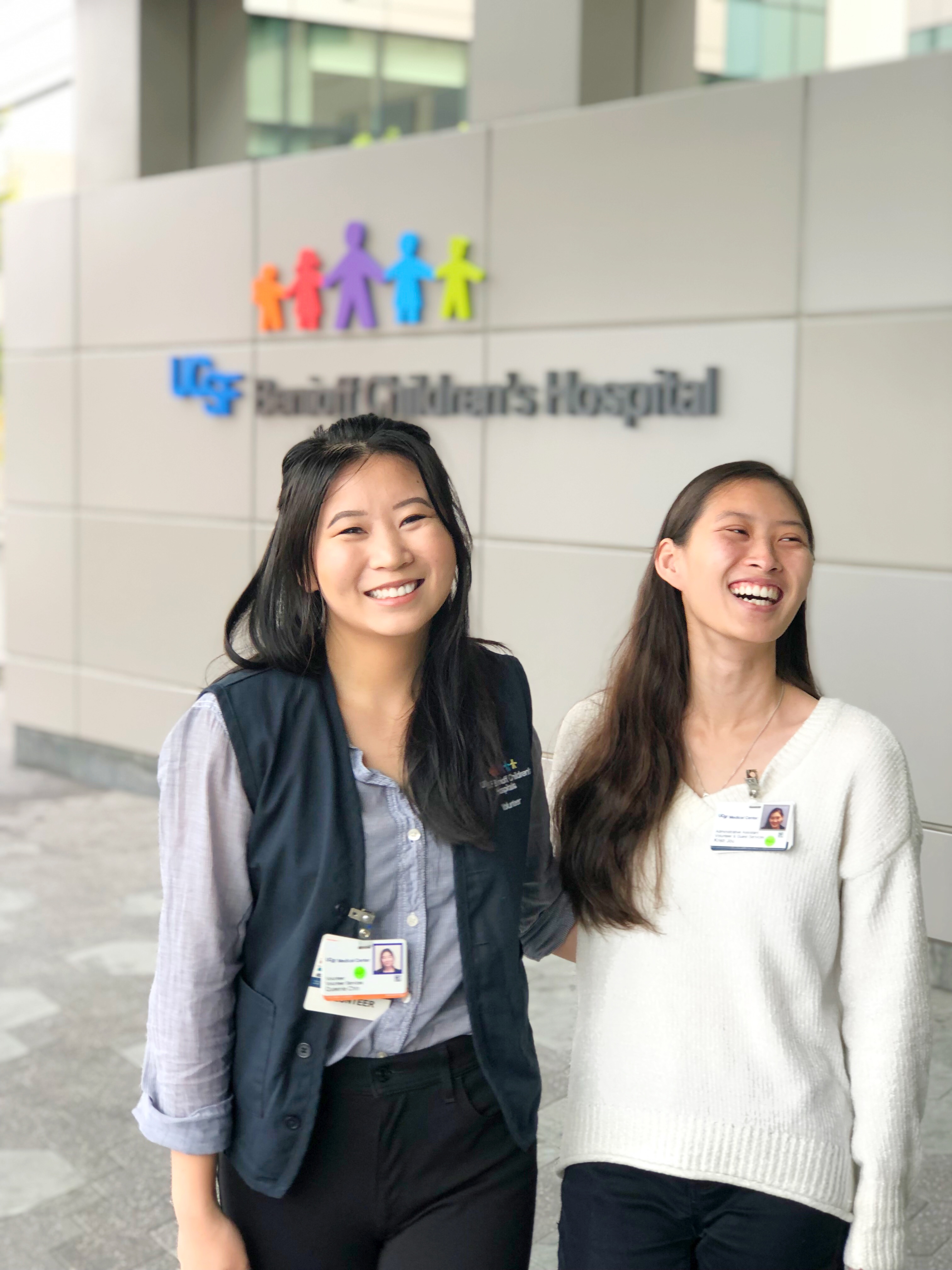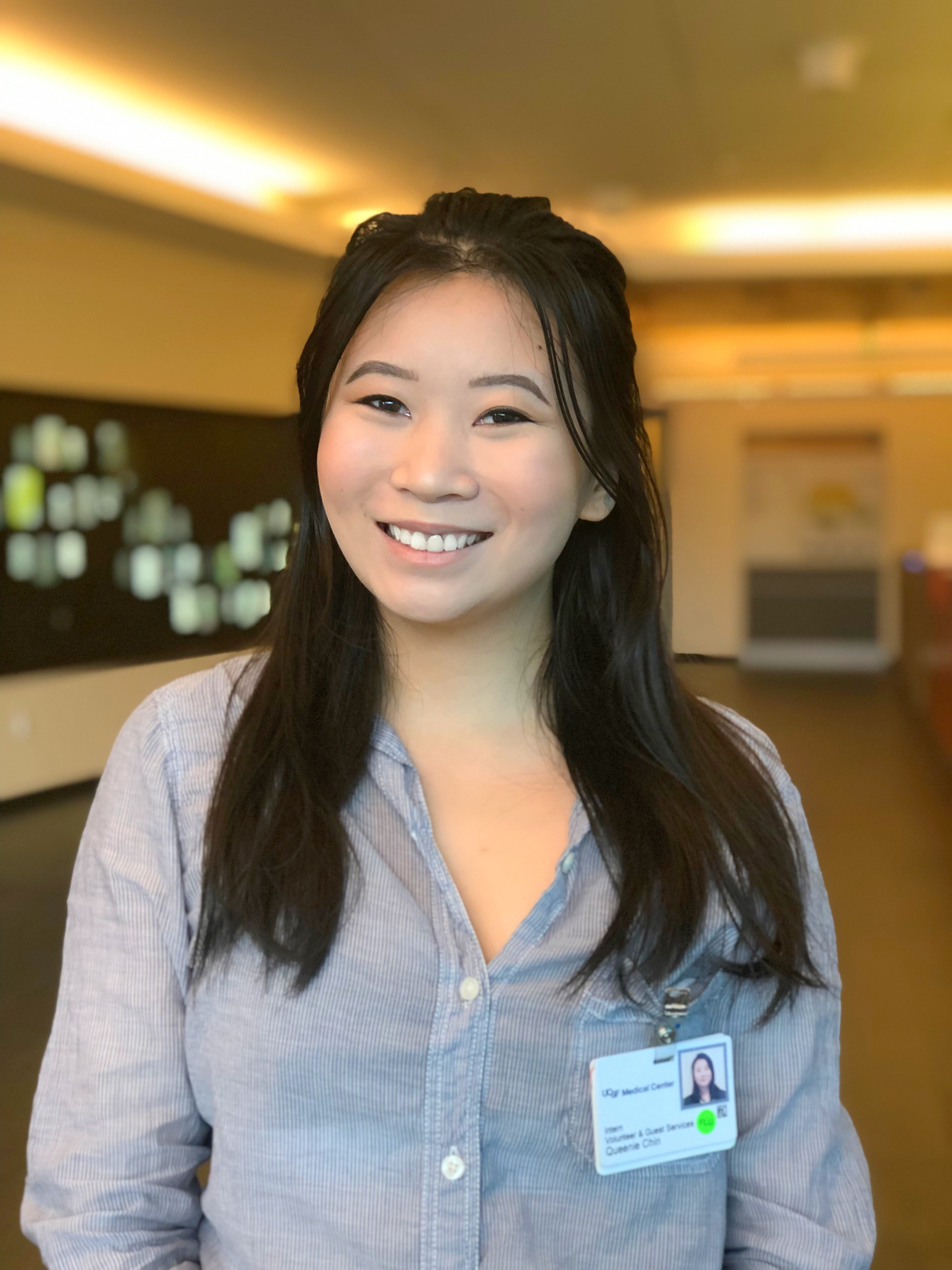 Queenie Chin, Summer Student Program Intern, Mission Bay
Extraordinary, breathtaking, and inspiring. Within these words, hold cherished memories during my time as an Administration Assistant Intern with UCSF Volunteer & Guest Services. Because my time as an intern last year was incredible to say the least, I was ecstatic to have the opportunity to do it again.
Funded by The Bengier Foundation, the Summer Student Program 2018 has given high school students the chance to learn and exposure to a possible future in medicine. A responsibility of mine was to train these young, bright minds to be a Patient Amenities and Brew Crew volunteer. As a Patient Amenities volunteer, the students eagerly went to our Adult hospital going room-to-room offering patients: newspapers, magazines, and knitted baby hats to our birth center. Doing similar rounds, Brew Crew offers hot beverages such as coffee, hot chocolate, tea, and apple cider to patients, their families, guests, and UCSF staff. Although the positions differ in their amenities, this group of students have been extraordinary in their cheerful, positive patient interactions.
As a volunteer myself, I have luckily been able to give back to our patients firsthand. However, my experience enhanced as I witnessed the students do their rounds, the breathtaking moments, for example, patients smiling ear-to-ear, grateful for the simple act of receiving a cup of coffee. Volunteer serving our UCSF Mission Bay hospital progressed so far in their confidence and comfortability within a medical setting and am so proud to see the individual growth week to week.
I am so appreciative of the UCSF Volunteer & Guest Services team for giving me this opportunity to work alongside them, but more importantly, for allowing me to meet inspiring students who I fully believe have bright futures ahead of them.
I consider volunteering as such an important part of myself and am proud to say I am a volunteer. Despite a busy schedule, watching the summer volunteers make a positive impact on the patient experience only inspires and fuels me to continue volunteering in my spare time. To our students this Summer, thank you for volunteering at UCSF and I only wish you all the best in your future endeavors!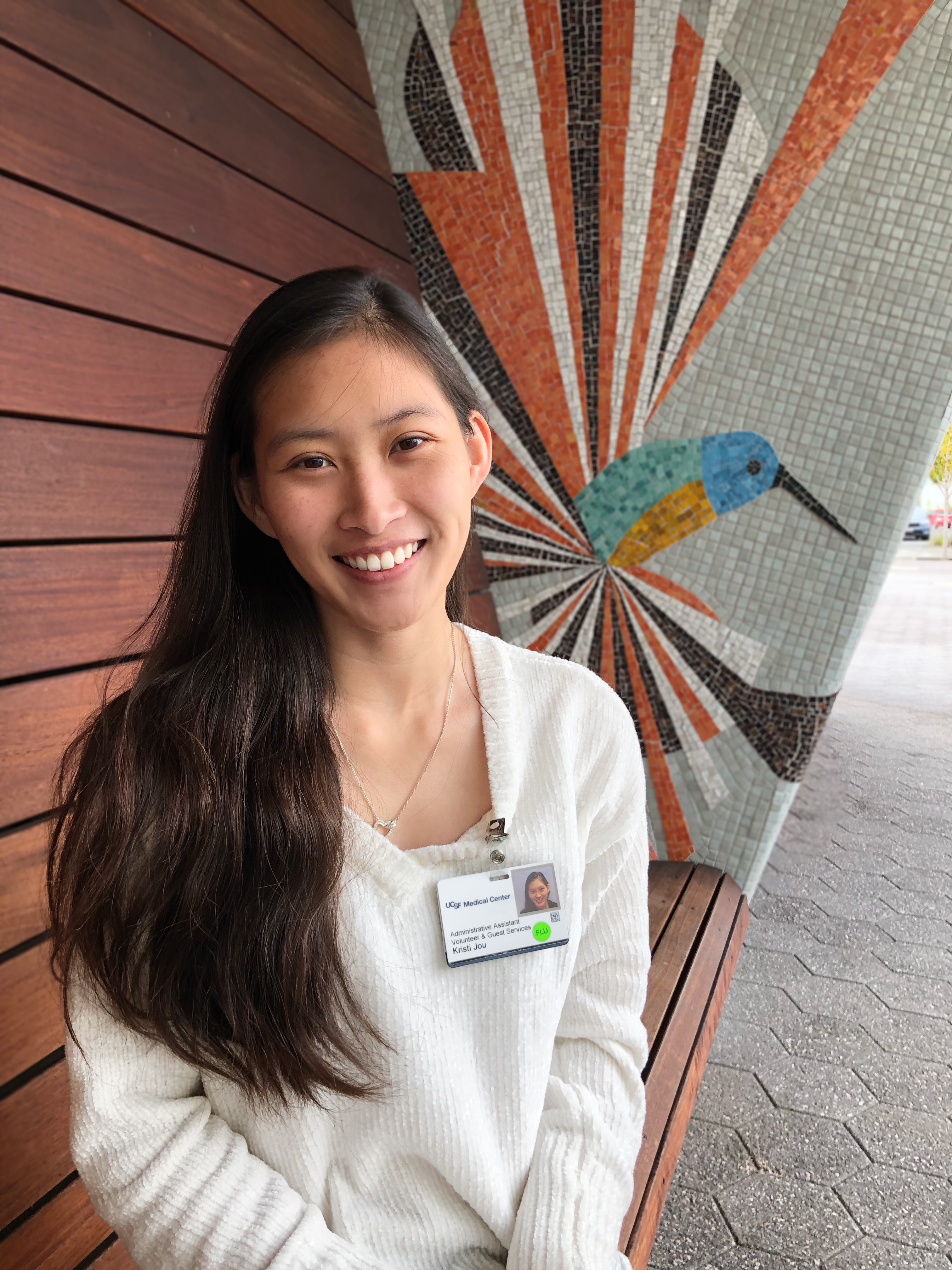 Kristi Jou, Summer Student Program Intern, Parnassus
As the Summer Student Program Assistant this summer, I had the pleasure of working closely with experienced professionals and young professionals to promote the best care for the patients at UCSF hospital. I learned from the whole team: Wendy, Amy, Jennifer, Keith, Lauren, Kathleen, and Queenie, through their daily actions and attitudes, UCSF's P.R.I.D.E. values. This team has reflected professionalism, respect, integrity, diversity, and excellence week after week in the way that they positively and considerately interact and communicate with patients, volunteers, staff, and each other to efficiently accomplish tasks and thoroughly address questions, concerns, or requests. From the very beginning when I started as a volunteer more than a year ago, they have shown me first-hand their patience and compassion. Parnassus is a fast-paced environment that demands attention in multiple areas at once, so it really emphasizes the extent of care the team provides for one another and to the patients when they stop their current assignment to listen carefully to what they have to say. I am grateful to be a part of such a kind and collaborative team.
I was thrilled for our team to expand with the addition of the summer student volunteers. Though they were young, the high school student volunteers demonstrated high measures of maturity. Already on the first week of interacting with adult patients and staff, despite some being nervous or timid, they were willing to advance from their comfort level to engage with people and build upon their interpersonal skills. They quickly learned the responsibilities of a volunteer and also adopted and exemplified UCSF's values. They worked well together to ensure patients received their requests, visitors were offered beverages, and office tasks were completed.
Every day of working along with the summer student volunteers gave me great joy because of the constant flow of smiles from the team early in the morning to the last shift of volunteers at the end of the day. They made me laugh and smile when they shared their excitement in volunteering, and they had me tearing up when they had to leave to prepare for the incoming school year. In the last week, I reminisced every photoshoot, conversation, delivery, patient visit, and moment with the volunteers. I had the privilege of seeing their personalities shine in the hospital environment. In the beginning, I had hoped to inspire and encourage them, but they have actually inspired me to continue working diligently towards my goals of caring for my community. They motivated me to be my best. This group of volunteers may have only begun to figure out what they are interested in or still may not know, but regardless of what they pursue, their ambition, reliability, and kindness will drive them to their goals.
I am grateful for the Bengier Foundation who granted me the chance to facilitate the volunteers in their experience at UCSF and for providing the volunteers with the opportunity to make their time in the hospital setting meaningful. I hope Volunteer Services continues to exist for the purpose of not only serving the patients, visitors, and staff but as an opportunity for developing the character and potential of young individuals. As both a volunteer and intern, I have learned that Volunteer Services exceeds the act of delivering amenities to patients and guests. The approach, mindset, and demeanor when interacting with people makes a difference in care. Volunteer Services embodies positivity and focuses on the relationships between patient, visitor, staff, and fellow volunteers. As I continue my time at UCSF, I hope to spend many more moments connecting with the patients, staff, and volunteers. The greatest reward from volunteering is not tangible, but it is heartfelt. I continue to volunteer and support other volunteers to bring comfort to those who are in what may be the most vulnerable moment of their life.